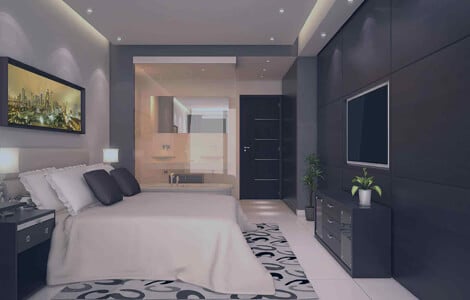 House and Lot: Avida Residences

Nestled along the four-lane Molino Paliparan road in Dasmariñas, Cavite is Avida Residences-Santa Catalina. Only a 20-minute drive from the Alabang exit of the SLEX through Alabang Town Center and Daang Hari, it's likewise accessible from Aguinaldo Highway through Salitran-Salawag Road and from the Carmona exit of SLEX through Governor's Drive and Molino-Paliparan road. Within the vicinity is De La Salle University-Cavite campus, hospitals, and malls. Choose between the units Padova, Sapri, Sienna, Ravenna, or Genoa, and live with a clubhouse, swimming pool, basketball court, playground, and trellis garden.

House and Lot: Avida Village
Bringing the best of affordable living to Dasmariñas, Cavite is Avida Village-Santa Cecilia. Homes are Asian-inspired, while the village is protected by 24-hour security and a concrete perimeter fence. The conveniences of living are close by, and the Village has well-planned community facilities and amenities. Enjoy a swimming pool, basketball court, a multipurpose hall and main park, gazebo and trellis, a play area, and a village-owned water supply system.

Avida Village Northpoint is a community nestled in Talisay, Negros Occidental. It's nearby The District mall, the University of St. La Salle, and the Bacolod-Silay airport. Choose between the Cresta, Phoebe, and Stella house units. Bask in the sunlight and breezes in its pocket parks. Take a dip in the swimming pool and enjoy the community in the multipurpose hall.

With 24 hectares is Avida Village Iloilo, a development along Angela Avenue, Barangay Balabag, Pavia, Iloilo. Only nearly 10 km away from SM City Iloilo, 3.5 km away from Sta. Monica Church in Pavia, and 6.3 km away from the University of San Agustin High School. Feel safe with a secured entrance gate and 24/7 security. Go anywhere with organized shuttle stops and socialize in the multipurpose hall. Also inside is a swimming pool, a basketball court, and pocket parks.

House and Lot: Avida Settings
Avida Parkfield Settings Pulilan is a 22-hectare master-planned development in a first-class municipality in the province of Bulacan. It's part of the region's up and coming urban, institutional growth center, along with Plaridel and Baliuag. Located along Old Cagayan Valley Road in Barangay Taal, it has a strong cultural heritage where you can expect a well-rounded community bustling with opportunity. Choose between the well-designed house units Celine, Macy, and Trista so you can live a sustainable and stress-free life. These homes are designed not only to suit the Filipino taste, but also to make efficient use of space, complemented by timeless exteriors and lots of area for exbandability. Feel your own community within a community with Avida Parkfield Settings Pulilan's generously spaced pocket parks and open spaces. It will surely give you a secure and private atmosphere. Additionally, the area's also flood-free.

One of the greenest developments in Cavite is Avida Settings Dasmariñas, the perfect integration of exclusivility and accessibility. With 1.8 hectares of green recreational spaces, you can do more and interact more in this sure and secure community. It's just south of Metro Manila and sits along Molino-Paliparan road. Minutes away from The District Dasmariñas and The District Imus, it's nearby SM Super Center Molino and Madrigal Business Park.

Keep your family life in the secure, exclusive haven of Avida Settings Lipa. At the juncture of Lipa's main arterial road, it's a private, gated, and fully-fenced neighborhood with provincial charm. Exciting in its close proximity to Manila, it also has wide, green open spaces. Aside from those things, it's also strategically located along J.P. Laurel Highway, a major highway in Lipa. Located in Barangay Tambo, it's a stone's throw away from the Star Toll exit, surrounded by schools, commercial centers, business hubs, and other vital establishments.

Giving you a breathtaking 360-degree view of Tagaytay Ridge, Mount Makiling, and Laguna de Bay is Avida Woodhill Settings NUVALI. It's at the highest point of the Eco-City Nuvali, and it has a modern-contemporary design, 24-hour security, and Ayala Property Management Corp.-provided property maintenance. Located at Barangay Canlubang and Majada in Calama City, you can enjoy the community with nature as your backdrop. It's a stone's throw away from the Republic Wake Park and Miriam College in NUVALI. With more than 3 hectares of amenities, enjoy the clubhouse, function room, two swimming pools for adults and kids, a children's play area, a basketball court, a garden with open spaces surrounding the area, and jogging trails. Choose from the Celena, Maia, and Thea home units to suit you and your family's lifestyle.

Avida Settings Batangas has lush pocket parks and open spaces where you and your family can celebrate. It's a new, exclusive community in San Pascual, Batangas. With only 181 saleable units in Phase 1, enjoy privacy and a choice community. Located in Bauan-Batangas Provincial Road in Barangay Poblacion, it's only minutes away from several educational institutions, commercial establishments, hospitals, and recreational centers. Also, it's only less than 5 km away from the provincial capital, Batangas City. Choose between the Celena, Maia, and Thea home units perfect for your family. Bask in the rewards that Avida Settings Batangas has to offer: adult and kids' swimming pools, a children's play area, a basketball court, a multi-purpose hall which doubles as a clubhouse, and vast garden and open spaces.

Live a life you've always dreamed of in Avida Settings Cavite, a ready community with colorful American-inspired homes and contemporary-themed amenities. It's easily accessible in Molino, Cavite along the Molino-Paliparan raod. As it's just a 15-minute drive from Alabang Town Center via Daanghari, you can find that it's also easily accessible from Metro Manila through the South Luzon Expressway or through Coastal Road. You'll also get access to the stunning infinity pool, a modern basketball court, an American-inspired clubhouse, courtyard systems, and preserved sloping terrains. Apart from those features, you'll have round-the-clock security, CCTV cameras, and an electric perimeter fence for your peace and privacy.

Avida Settings Altaraza is Avida's flagship house and lot residential development in San Jose del Monte, Bulacan. It goes hand in hand with the city's progress as it's in the heart of the Altaraza Town Center. Receiving the best of both worlds, in Avida Settings Altaraza, vibrant city living meets community charm. It's close to an expanse of retail and business establishments, institutional facilities, and generous public spaces. Reach Quezon City and Caloocan quickly as it only takes 20 minutes to drive from Quezon Memorial Circle to San Jose del Monte City.

Located at the South of NUVALI is Avida Southfield Settings, the fourth and latest sequel to the successful Avida Settings series in NUVALI. Offering individuals and budding families a healthy environment and a secured, safe community, it gives you a new outlook on suburban living. With only 419 house and lot properties and 419 lots, the density will be perfect for your new community. It's accessible via several exits in SLEX, its nearby landmarks are Malitlit (Eton) exit and Solenad 1.

Avida Settings Alviera is a mixed use and master-planned community built on the sterling philosophy of Urban + Nature. Laid out to reinforce the natural world's presence in a modern everyday setting, it's composed of open fields, verdant terrain, and blue skies adorned with scenic mountains in Porac, Pampanga. Its 1,125 hectares are abundant in natural features thriving in Alviera's urban innovations, it's also envisioned to be the growth center of Central Luzon. Situated in Barangay Dolores in Alviera, Porac, Pampanga, it's accessible from SCTEX.

An exclusive community in San Pascual, Batangas, Avida Settings Batangas is an organized and functioning community made for only an exclusive few. Enjoy gatherings with friends in the clubhouse, and wander safely in open spaces and pocket parks. It's less than 5 km away from the provincial capital of Batangas City and is nearby San Pascual National High School, Chevron Batangas Terminal Golf Course, and San Pascual Baylon Parish.

Avida Setting Cabanatuan is in the center of the commercial, industrial, and educational hub of Nueva Ecija. It's within reach because it's strategically located in the prime area of Sta. Arcadia. Choose between the Thea or the Maia house units. Enjoy The Nature's Grove, a clubhouse and multipurpose hall, a swimming pool, a bastketball court, a biking trail, and a jogging path.